Back in business
Dec 10th 2020, by Arisotura
Sometimes, there's nothing quite like an interesting issue to motivate a lazy Arisotura.

For example: no graphics in the third flying level in Power Rangers - Super Legends.

Basically: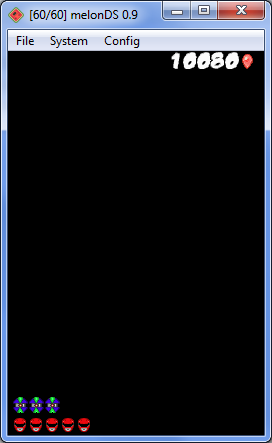 Yeah, it's not very playable like this, even moreso as this is a shoot-em-up level.

When I looked at this, I saw Generic was already on it. He figured out that, when entering the level, the horizontal offset for BG0 was not being reset, and its previous value was 256, which caused BG0 (and thus the 3D graphics) to be pushed offscreen.

Moreover, NO$GBA and DeSmuME both suffered from the same issue, which meant that once again we were stepping into uncharted territory. Exciting!

So I set to work. I logged what the game was doing and made a disassembly. There were two main possibilities there: either the game was misbehaving due to some emulation issue, or it was working as intended but relied on unknown hardware behavior. The second hypothesis seemed more likely, seeing as when entering the glitched level, the game took care to clear VRAM and setup 2D layers and all that. It didn't seem to be a timing issue either, as those are typically affected when tweaking melonDS's cache timing constants, but tweaking these made no change there.

So, looking at my logs, I made several tests on hardware. I figured something was resetting the BG0 scroll position, but couldn't manage to reproduce that. So, seeing as it was 5:00, I went to bed, like normal people do.

The next day, Generic gave me a test ROM that reproduced the issue at hand. It was one of the basic libnds 3D examples, except it was modified to write a value to BG0HOFS at the very beginning of main(), before doing anything else. Sure enough, the example cube found itself scrolled on melonDS, but not on hardware. Well, looks like after hours of banging our heads at that issue, he'd figured out something.

Going from this, I was able to pinpoint the exact conditions that caused the BG0 scroll position to be reset. In particular, in the glInit() function:



powerOn(POWER_3D_CORE | POWER_MATRIX); // enable 3D core & geometry engine


POWCNT1. I'd suspected it, I'd tried messing with it, but didn't find anything, because the hardware behavior was not what I'd expected.

Basically, POWCNT1 is the ARM9-side power control register. It lets you enable or disable the 2D renderers, the two components of the 3D renderer (the geometry engine and the rendering engine), the screens, and also swap the screens. Fun shit.

Further experiment showed us that, unlike what we thought, horizontal scrolling for the 3D layer isn't done by the 2D engine, but by the 3D rendering engine, right before the 3D layer is passed to the 2D engine. This was further confirmed by Hydr8gon, who observed that when capturing the 3D layer alone, it also has the scrolling applied.

So how does this work? The 3D rendering engine has its own scroll position register, which is updated when writing to BG0HOFS. Except when the 3D rendering engine is disabled, in which case its register stays untouched. There we go.

Sure enough, Power Rangers doesn't turn on the 3D renderer until it actually has to render 3D graphics, that is, in our glitched level. Hence, the scroll position given to BG0 in the previous 2D-only levels would never end up into the 3D rendering engine's scroll register.

Sure enough, implementing that behavior into melonDS did the trick: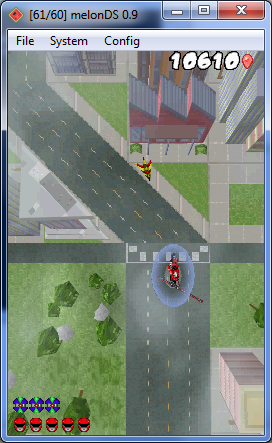 Did we tell you the DS has quirky hardware?
10 comments have been posted.