There it is! melonDS 0.2 is out, with sound output and various other improvements. Here's the exact changelog:
• preliminary sound
• various compatibility improvements and fixes
• various little speedups too
• cart transfer delays emulated
• RTC uses system time
• wifi stub -- games requiring wifi functionality shouldn't hang anymore
• 2D: windows
• 2D: various fixes to display capture
• 3D: toon/highlight shading, shadows, polygonID
• 3D: box test, pos test, vec test
pile of copypasta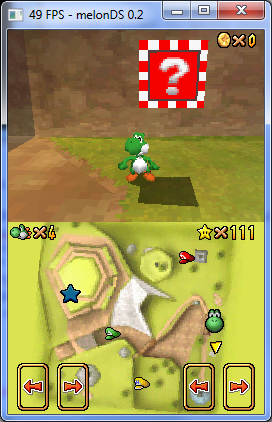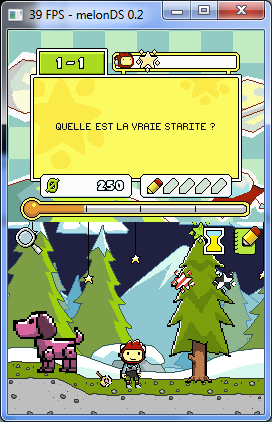 How to use
melonDS requires BIOS/firmware dumps from a DS. You can dump them with
the following dumper
.
The files must be placed in the same directory as the melonDS executable, as follows:
* bios7.bin -- ARM7 BIOS, 16KB
* bios9.bin -- ARM9 BIOS, 4KB
* firmware.bin -- firmware, 256KB or 512KB
Note: the DS-mode firmware in the 3DS isn't bootable. It only contains the bare minimum required to run DS games. Be sure to enable direct game boot when using a firmware dump from a 3DS.
Settings
Emulation: settings related to emulation. For now it lets you enable direct game boot (directly runs the game instead of going through the firmware).
Input: allows you to configure keyboard and joystick input. You can change a mapping by clicking the corresponding entry, then pressing a keyboard key or joystick button. For now, joystick input uses the first joystick available if multiple joysticks are plugged.
Downloads
*
Windows 64-bit
*
Linux 64-bit
Have fun!

____________________
Kuribo64